Seating is limited as we will be following social distancing guidelines.
Complimentary Dinner & Drinks
Optimizing Your Tax Strategy
Gain Control of Your Taxes in Retirement
ViewHouse Centennial
7101 South Clinton Street
Centennial, CO 80112
- Tuesday, March 30th from 6:30 p.m. to 7:30 p.m.
- Thursday, April 1st from 6:30 p.m. to 7:30 p.m.
MENU

Seasonal berry salad, followed by your choice of slow-roasted beef brisket, pan-seared salmon or herb-roasted chicken entrée. Dessert will be served as well.
Seating is limited. A complimentary meal will be served. Nothing will be sold at the event and there is no charge to attend!
Get outside and join us for dinner and drinks!
This information-packed event will be held in a relaxed, outdoor space. Following the presentation, we'll enjoy dinner, drinks and mingling with a stunning view of the setting sun. In the event of inclement weather, the area will be covered and heated for your comfort.

Do you have a retirement tax strategy? If you're already in, or approaching, retirement, it's important to understand how taxes, including many significant, recent changes, may impact your retirement income. Join us this fun evening event while we discuss the following important topics:
Complimentary Dinner Registration
Seating is limited. In accordance with recommendations by the CDC, we will be limiting attendance to each event. Sign up today to reserve your seat(s)!
What's changing for taxes and Social Security in 2021.
Why taxes can be one of your biggest retirement expenses without a proper plan in place.
Immediate actionable steps to protect your savings from heavy, unnecessary "retirement taxes."
How to lock-in historically low tax rates now, before taxes increase.
Strategies to help you avoid "401k and IRA tax pitfalls." (1)
How you can create tax-free retirement income and potentially lower your tax bracket in retirement.
And MUCH more!
A complimentary dinner will be served. This is an informational event. No products will be discussed and nothing will be sold.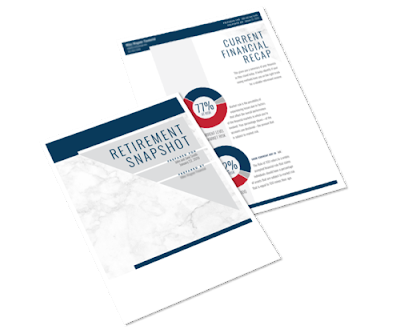 All attendees are eligible to receive a complimentary retirement snapshot analysis for your current plan for income and taxes in retirement.
Do you have a retirement tax strategy in place?
Don't miss this information-packed event!
days
hours
minutes
seconds
days
hours
minutes
seconds
If you have an IRA, Roth, 401(k), 403(b) or any other retirement accounts, you don't want to miss the opportunity to learn about:
The changing financial landscape for those approaching retirement.

Tips and strategies to manage your tax exposure and help increase your retirement income.

Understanding tax laws and how they may impact your retirement income.

How to avoid unnecessary taxation on Social Security income & maximize your benefits.

Planning for longevity, inflation and future tax increases.

How to navigate RMDs and ensure you are harvesting your assets efficiently without paying more taxes than necessary.

Strategies to help plan for the next market downturn and protect your assets from market volatility.

How to create a customized retirement income & tax strategy.
These workshops are extremely popular and seating is limited. Reserve your seat today to guarantee attendance!
Brad Hablutzel, is a CERTIFIED FINANCIAL PLANNERᵀᴹ, MBA, CTS®️, and CFS®️. Brad has been serving retirees & pre-retirees for the past 13 years. He takes an objective & meticulous approach to solving financial problems and he believes in excellent service—and that it's always right to do the right thing. Brad prefers to get to know his clients deeply, so he may become their biggest advocate.
Native to Colorado and resident of Highlands Ranch, Brad enjoys his time with his wife and two boys, traveling, golf, softball, boating in Wisconsin, volleyball, spending time with family and friends, and cheering on Colorado professional sports teams. He volunteers as Treasurer of his church, Treasurer of his HOA, his son's school & sports activities, and he is active in their his local chamber of commerce, Rotary International, and assists with graffiti removal projects in the community.
Brad Hablutzel
President, Mosaic Retirement Planning

*https://www.cnn.com/2020/03/25/politics/stimulus-package-details-coronavirus/index.html

Investment Advisory services offered through ChangePath, LLC a Registered Investment Adviser. ChangePath, LLC and Mosaic Retirement Planning are unaffiliated entities.
The information contained herein is based on our understanding of current tax law. The tax and legislative information may be subject to change and different interpretations. We recommend that you seek professional legal advice for applicability to your personal situation.
By providing your information, you give consent to be contacted about the possible sale of an insurance, securities or annuity product. Licensed Insurance Professional. Attend and learn how annuities and life insurance can be used in various stages of planning for retirement income. This material has been prepared for informational and educational purposes only. It is not intended to provide, and should not be relied upon for, accounting, legal, tax or investment advice. The presenter can provide information, but not advice related to social security benefits. Clients should seek guidance from the Social Security Administration regarding their particular situation. The presenter may be able to identify potential retirement income gaps and may introduce insurance products, such as an annuity, as a potential solution. Social Security benefit payout rates can and will change at the sole discretion of the Social Security Administration. For more information, please consult a local Social Security Administration office, or visit www.ssa.gov.